Marathi Birthday Abhar Banner Background Images Status Download | आभार संदेश वाढदिवस मराठी
If you are confused about how to say thanks for birthday wishes in marathi, then don't worry we are here to help you, there are lot of ways to say thank you for birthday wishes in marathi like sending birthday abhar / birthday dhanyavaad message in marathi, sending thank you images, and by birthday abhar banner photo, If you want to create a happy birthday abhar banner in marathi then we have made it very simple. We have designed some beautiful birthday abhar banner background images in marathi with some best birthday abhar patra format in marathi and banners of abhar pradarshan in marathi for birthday wishes to create a abhar marathi flex/banner.
Just download a birthday abhar banner hd image with abhar pradarshan images quotes in marathi and set as your whatsapp status or simply download birthday abhar banner background and create an attractive birthday abhar banner using birthday abhar message marathi text ( आभार संदेश वाढदिवस मराठी ). These abhar images are best suit for birthday abhar marathi status for whatsapp.
Get The Best Abhar Pradarshan Images In Marathi | Abhar Banner For Birthday Wishes :
माझ्या वाढदिवसानिमित्त आपण सर्वानी प्रत्यक्ष व अप्रत्यक्षरीत्या शुभेच्छा रुपी स्नेह व्यक्त केल्याबद्दल सर्वाना मनापासून धन्यवाद …!
आपण वेळात वेळ काढून मला शुभेच्छा दिल्या. त्याबद्दल मी आपला ऋणी आहे.. असे म्हणून मी आपल्या ऋणातून मुक्त होणार नाही. तुमचा आणि माझा ऋणानुबंध असाच चालत राहावा हीच प्रार्थना.आपले खूप खूप आभार..!
माझ्या वाढदिवसानिमित्त आपण सर्वानी विविध माध्यमातून प्रत्यक्ष अप्रत्यक्षरीत्या शुभेच्छा रुपी स्नेह व्यक्त केलॆल्याबबद्दल सर्वाना मनापासून धन्यवाद!
माझ्या वाढदिवशी आपण सर्वानी विविध माध्यमातून प्रत्यक्ष व अप्रत्यक्षरीत्या सद्भावना व्यक्त केली त्या सर्व शुभेच्छांचा मी मनापासून स्वीकार करतो.. आभार.
Thank you Message in Marathi – आभार संदेश मराठी
आपण सर्वांनी दिलेल्या वाढदिवसाच्या शुभेच्छांबद्दल मी आपला मनपूर्वक आभारी आहे.
आपण दिलेल्या शुभेच्छांचा अगदी मनापासून स्वीकार, आपले मनपूर्वक आभार. असेच प्रेम माझ्यावर राहील हीच अपेक्षा.
माझ्या वाढदिवसानिमित्त तुम्ही दिलेल्या प्रेमरूपी शुभेच्छांची मी अखंड ऋणी आहे. आपल्या सर्वांच्या शुभेच्छांचा आदर ठेवून सर्वांचे मनपूर्वक आभार.
वाढदिवस आभार प्रदर्शन
Thank you Wishes for Birthday
Thanks for birthday wishes in marathi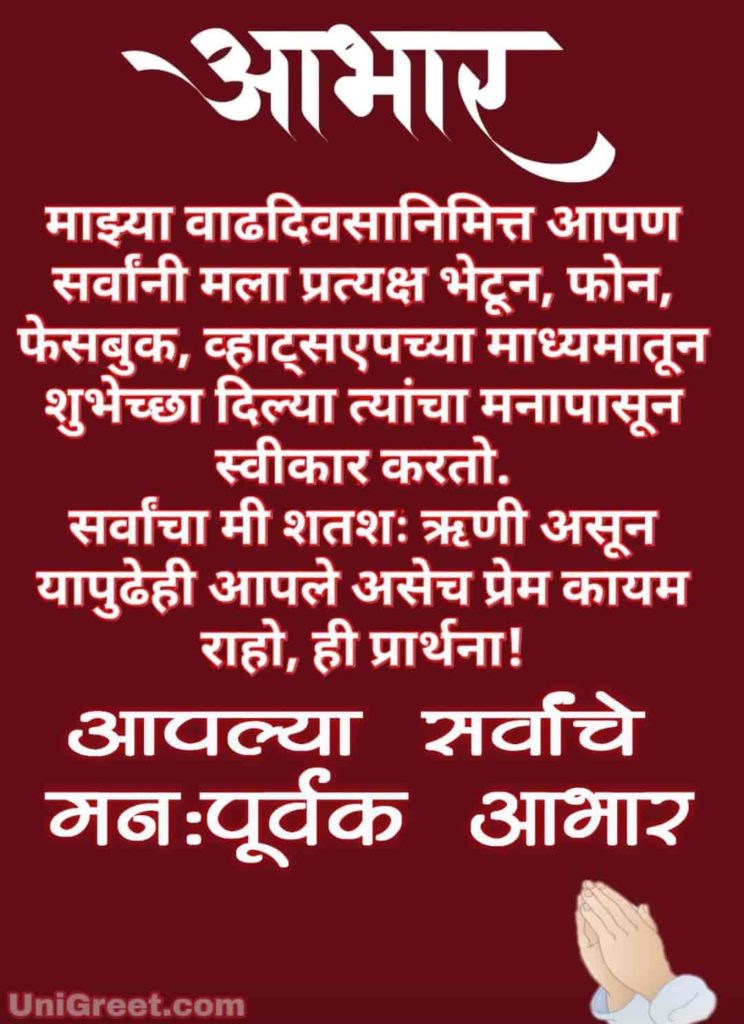 आभार संदेश वाढदिवस मराठी
Dhanyawad Message in Marathi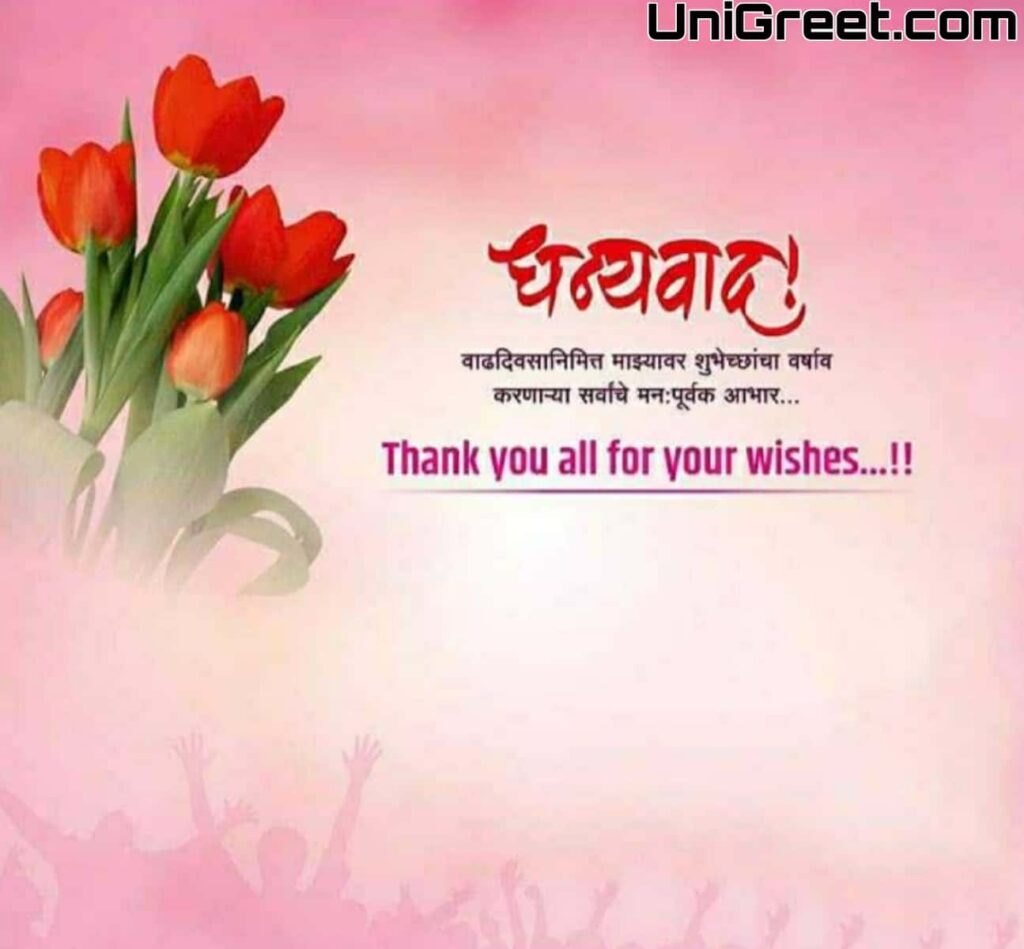 We hope you may love this collection of happy birthday abhar images in marathi / birthday thanks in marathi, just download a birthday abhar image background and create an unique happy birthday abhar banner in marathi.